rrca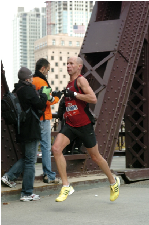 Todd Neville
North Florida RRCA State Representative
northflorida@rrca.org

Todd lives in the St. Augustine, Florida and has been a longtime active member of the Ancient City Road Runners (the "ACRR"). He was a six-term club president and expanded that service as a board member of the American Association of Running Clubs (merged with the RRCA in 2005) and as the Treasurer of the RRCA in 2004-2005.

He started his running career at 10 years of age and has been running consistently since then. The highlight of his running career was when he ran 2:30:12 at the 2009 Chicago Marathon after placing 12th overall and the 3rd American in the 2008 San Antonio Rock n Roll Marathon.

Todd is an audit partner of Taylor, Wainio & Neville, P. A. Todd also serves as the Campaign Treasurer/Steering Committee Member for Florida House of Representatives District 20 member Bill Proctor. He is treasurer of the St. Johns County Chamber of Commerce and serves on several boards.
Visit the RRCA web site www.rrca.org