Web Page
Sponsor

Paul E. Rice, Jr.

Runner, Member Daytona Beachcomber Running Club
Full Service Law Firm
• Real Estate
• Divorce & Family Law
• Wills, Trusts & Probate
• Criminal Defense
• Business & Corporate Law
• Personal Injury & Wrongful Death
222 Seabreeze Blvd.

Daytona Beach, FL

32118

386-257-1222

www.RiceRoseLaw.com
| | | |
| --- | --- | --- |
| | | |
| | | |
| | | |
| | | |
| | | |
| | For Club Information | |
| | 386-255-1279 | |
| | | |
| --- | --- | --- |
| | | |
| | Daytona Beachcombers Running Club | |
| | 290 Morningside Ave | |
| | Daytona Beach, | |
| | Florida 32118 | |
| | | |
| | | |
| | | |
| | | |
| | | |
| | | |
| | | |
| | | |
| | | |
| | | |
| | | |
| | | |
| | | |
| | | |
| | | |
Congratulations Sheila Sullivan, Stacy Ferner, & Angelika Grubel all qualifying for Boston 2017 at Spacecoast Marathon 11-27!

If you would like to share running related information, stories, and digital photographs with others, send your message to Donna Hiatt, Daytona Beachcombers Running Club, Webmaster, at donnadorun@cfl.rr.com or 386-255-1279

RRCA

Best Web Based Newsletter

The Beachcombers web based newsletter, The Beach Buzz, has been awarded the 2005 & 2008 Southern Region Jerry Little Journalism Award by RRCA! Thank you RRCA!

| | | | | | | |
| --- | --- | --- | --- | --- | --- | --- |
| | | | | | | |

The Beachcombers are extremely proud of being selected as the RRCA Small Club Top Web Site 2005

Click on RRCA Logo to review sites

Our Web Page Wins Another Award

The Daytona Beachcombers web page has won the March 2005 Run The Planet Award

Run The Planet is the largest worldwide Running Community on the internet!

Check it out: http://www.runtheplanet.com/, running resources, RTP Award!
Mission
The mission of the Daytona Beachcombers Running Club is to nurture a sense of community and camaraderie within the club through running and social events; to offer opportunities for guidance, coaching, and development to members; and to promote the benefits of a healthy running/walking lifestyle for adults and young people.
10 Good Reasons to Run With Us Today
To get in better shape

To meet interesting people

To meet your competition

To have someone to run with

To give you a reason to get out of bed on Sundays

To help measure your improvement

Camaraderie

Someone to travel with and talk to at races

People to talk to that understand your injuries.

To become a better runner
We believe we can provide something of value and interest to all runners.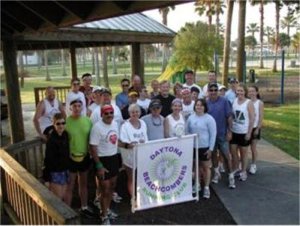 Take the challenge! ! Experience the joy!